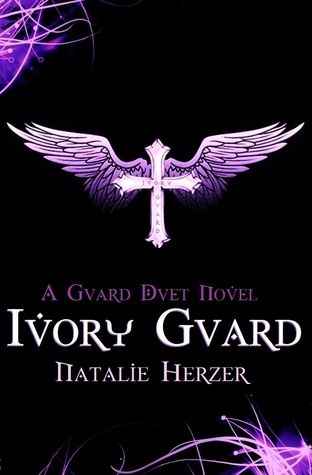 Synopsis
Life will make you stumble
One peaceful afternoon Lillian finds two angels in her living room - wings and gloriole and all - telling her she is an Ivory. Half human and half angel she is born to fight for humankind and to guard the hellholes where the membrane between worlds is at its weakest.
She, an important warrior? Yeah, riiiight.
Life can make you fall
Raz might be an angel but he doesn't do compassion. His job is to train her, to make her a leader and that's what he will do. So Lillian will just have to suck it up when she discovers the deadly truth behind his words. When she does exactly that, he has to admit there's more to the bookworm than he thought. Much more. But there's one thing he shouldn't forget – in his world feelings come with a price. Is he willing to pay?
Love will give you wings.
Goodreads
|
Amazon
|
Amazon UK
Review
This is your typical, "Happy eighteenth birthday! Now let's flip your entire world on end!" story. Lillian discovers that she was born with one purpose and has basically been on loan to her parents until she turned eighteen and graduated from high school. She is an ivory which means her entire purpose is to do battle against the evil in the world. So it is off to her new life with a very gruff mentor to guide her way.
This is not one of those angel stories where angels are awesome and they're doing everything they're allowed to do to help humans. Nope. Angels are pretty much jerks and the big man himself isn't much better. I am not quite sure how I feel about that particular aspect but I have to say that heaven as a bureaucratic corporation is somehow believable. It just makes for a significantly more cynical outlook when no one is truly good.
I enjoyed Lillian's character quite a bit. She is hardworking, witty, loyal, and level-headed. She is also a badass. Her friends seem great too but there isn't much development there. In fact, the book seems to fly and consists of two parts: when they become an ivory guard and when everything starts to unravel. There really isn't a whole lot of downtime.
This is not a standalone book but the ending isn't too much of a cliffhanger. If you are looking for an epic good versus evil saga, this may not be the book for you as the lines are quite blurred. If you are offended by God being portrayed as far from perfect, this is definitely not the book for you. But if you are looking for a book about a strong girl who adapts to the challenges presented to her, fights for what she believes in but refuses to blindly follow the status quo, you should find this an enjoyable read.
*A copy of this book was provided in exchange for an HONEST review*
Try it for yourself!
Goodreads
|
Amazon
|
Amazon UK
Katie