For people who enjoy a healthy dose of humour in their reading diet, I have compiled a list of some of the ones I have personally enjoyed. This is obviously more of an off-the-cuff list rather than an all-inclusive compendium. Humour is subjective but hopefully, you will find something here that suits your tastes.
Contemporary
Tara Sivec's Chocolate Lover's Series
Synopsis
Claire is a twenty-something, single mom that grudgingly helps her best friend sell sex toys while she attempts to make enough money to start her own business to give her foul-mouthed, but extremely loveable (when he's asleep) toddler a better life.
When Carter, the one-night-stand from her past that changed her life forever, shows up in her hometown bar without any recollection of her besides her unique chocolate scent, Claire will make it a point that he remembers her this time.
With Carter's undisguised shock at suddenly finding out he has a four-year-old son and Claire's panic that her stretch marks and slim to none bedroom experience will send the man of her dreams heading for the hills, the pair will do whatever they can to get their happily ever after.
Warning: contains explicit sex, profanity and enough sarcasm to choke a horse.
The humour in this series is a little on the crass side but doesn't go too far over the line (for me, at least). I didn't follow through to the last book as it focused on two of the weirder peripheral characters and I was a little hesitant to commit to their story. The first two focus on Claire and Carter who have a wild night at a frat party with an unintended byproduct and no way to get in contact with each other. Fate gives them another chance a few years down the road and between the main characters and those on the periphery, you are guaranteed some laugh out loud moments.
Goodreads
|
Amazon
|
Amazon UK
Katie Ashley's Rock Chick
Synopsis
Indy Savage, cop's daughter, rock chick and used bookstore owner, has been in love with Lee Nightingale, once bad boy, now the man behind Nightingale Investigations, since she was five years old. No matter what ingenious schemes Indy used to capture his attention, Lee never showed an interest and Indy finally gave up. Now Indy's employee, Rosie, has lost a bag of diamonds and bad guys are shooting at him. When Indy gets involved, Lee is forced to help. Complicating matters, Lee has decided he's interested, Indy's decided she's not. But she can't seem to keep Lee out of her life when she's repeatedly stun gunned, kidnapped and there are car bombs exploding (not to mention she's finding dead bodies).

Indy's best bet is to solve the mystery of the diamonds before Lee. Lee's challenge is to keep Indy alive and, at the same time, win back her heart.
If you are familiar with Katie Ashley, you are probably aware that her books lend themselves more to marathon reads rather than short and concise stories. ;Fortunately, the combination of action, steam and humour make for a very enjoyable read. The humour in this particular book mostly relates to the heroine constantly finding herself in bizarre or mischief-laden situations and her band of misfit secondary characters
Goodreads | Amazon
|
Amazon UK
Tangled by Emma Chase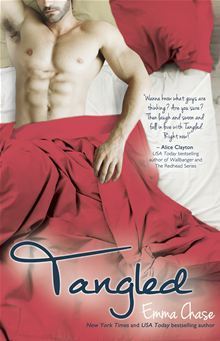 Synopsis
Drew Evans is a winner. Handsome and arrogant, he makes multimillion dollar business deals and seduces New York's most beautiful women with just a smile. He has loyal friends and an indulgent family. So why has he been shuttered in his apartment for seven days, miserable and depressed?
He'll tell you he has the flu.
But we all know that's not really true.
Katherine Brooks is brilliant, beautiful and ambitious. She refuses to let anything - or anyone - derail her path to success. When Kate is hired as the new associate at Drew's father's investment banking firm, every aspect of the dashing playboy's life is thrown into a tailspin. The professional competition she brings is unnerving, his attraction to her is distracting, his failure to entice her into his bed is exasperating.
Then, just when Drew is on the cusp of having everything he wants, his overblown confidence threatens to ruin it all. Will he be able untangle his feelings of lust and tenderness, frustration and fulfillment? Will he rise to the most important challenge of his life?
Can Drew Evans win at love? Tangled is not your mother's romance novel. It is an outrageous, passionate, witty narrative about a man who knows a lot about women…just not as much as he thinks he knows. As he tells his story, Drew learns the one thing he never wanted in life, is the only thing he can't live without.
This is a story told from the male perspective and the male is, well, a bit of a dog. It is a read where the hero grows on you despite your attempts to dislike him. There are also some entertaining attempts at sabotage that, while on the immature side, you cannot help but enjoy.
Goodreads | Amazon
|
Amazon UK
Paranormal
Magic Bites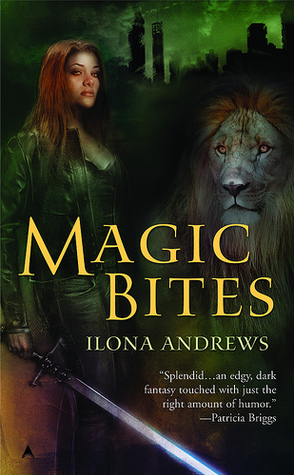 Synopsis
When the magic is up, rogue mages cast their spells and monsters appear, while guns refuse to fire and cars fail to start. But then technology returns, and the magic recedes as unpredictably as it arose, leaving all kinds of paranormal problems in its wake.
Kate Daniels is a down-on-her-luck mercenary who makes her living cleaning up these magical problems. But when Kate's guardian is murdered, her quest for justice draws her into a power struggle between two strong factions within Atlanta's magic circles.
The Masters of the Dead, necromancers who can control vampires, and the Pack, a paramilitary clan of shapechangers, blame each other for a series of bizarre killings—and the death of Kate's guardian may be part of the same mystery. Pressured by both sides to find the killer, Kate realizes she's way out of her league—but she wouldn't have it any other way…
Thoughts
The romance is slow to build in this series but so worth the ride. The series revolves around a post magic shift Atlanta where pretty much any weird creature imaginable is possible. The heroine, Kate Daniels, is the perfect mix of snark, intelligence, badassery and vulnerability. While there are about a million accolades about this series that I could expound upon, I have to say that the humour is probably my favorite.
Goodreads |
Amazon
|
Amazon UK
Nice Girls Don't Have Fangs by Molly Harper
Synopsis
Maybe it was the Shenanigans gift certificate that put her over the edge. When children's librarian and self-professed nice girl Jane Jameson is fired by her beastly boss and handed twenty-five dollars in potato skins instead of a severance check, she goes on a bender that's sure to become Half Moon Hollow legend. On her way home, she's mistaken for a deer, shot, and left for dead. And thanks to the mysterious stranger she met while chugging neon-colored cocktails, she wakes up with a decidedly unladylike thirst for blood.
Jane is now the latest recipient of a gift basket from the Newly Undead Welcoming Committee, and her life-after-lifestyle is taking some getting used to. Her recently deceased favorite aunt is now her ghostly roommate. She has to fake breathing and endure daytime hours to avoid coming out of the coffin to her family. She's forced to forgo her favorite down-home Southern cooking for bags of O negative. Her relationship with her sexy, mercurial vampire sire keeps running hot and cold. And if all that wasn't enough, it looks like someone in Half Moon Hollow is trying to frame her for a series of vampire murders. What's a nice undead girl to do?
Thoughts
This is one of those stories where humans are well aware of vampires and manage to coexist in relative peace. The heroine, Jane Jameson, is kind of pathetic at first as she has pretty much nothing going for her and is prone to the some serious bad luck. Fortunately, her circumstances improve over the course of the book but her luck, well, that appears to be the one constant in her life.
Goodreads
|
Amazon
|
Amazon UK (Paperback Only)
First Grave On The Right
Synopsis
This whole grim reaper thing should have come with a manual. Or a diagram of some kind. A flow chart would have been nice.
Charley Davidson is a part-time private investigator and full-time grim reaper. Meaning, she sees dead people. Really. And it's her job to convince them to "go into the light." But when these very dead people have died under less than ideal circumstances (like murder), sometimes they want Charley to bring the bad guys to justice. Complicating matters are the intensely hot dreams she's been having about an entity who has been following her all her life...and it turns out he might not be dead after all. In fact, he might be something else entirely. But what does he want with Charley? And why can't she seem to resist him? And what does she have to lose by giving in?
Thoughts
I have to admit that this one borders on the line between hilarious and outlandish. The heroine is pretty bizarre and has a strange obsession with assigning names to everything, including her body parts. Her oddity may have something to do with the fact that she can see and communicate with ghosts and has all her life. Fortunately, I thoroughly enjoyed it and the mysteries associated with the various plot points were quite intriguing. One delightful treat associated with the book is that each chapter opens with a humorous slogan from a t-shirt or bumper sticker.
Goodreads
|
Amazon
|
Amazon UK